ROCK STEADY
ROCK STEADY is a 12 week process to help you get your life back using neuroplasticity. 
Integrative medicine for vertigo, dizziness and tinnitus:
With ROCK STEADY you get physical vestibular rehabilitation as well as support for the mental, emotional and spiritual aspects of your recovery.
Seek balance within yourself.  Use the body's ability to change its neural connections.
Learn with me, Joey Remenyi.  I'm a vestibular audiologist who understands (and pioneers) in the holistic vertigo and tinnitus recovery process.
Who ROCK STEADY is for
ROCK STEADY is for anyone experiencing feelings of dizziness, vertigo, tinnitus, 'not-quite-right' or 'disconnected'.
You may have been diagnosed with a condition like:
persistent postural-perceptual dizziness (PPPD or 3PD)

vestibular migraine

persistent tinnitus

Meniere's disease

mal de debarquement syndrome.
Or maybe you don't have a firm diagnosis yet. I help people who have tried everything – numerous doctors and endless investigations – but they still feel not-quite-right. 
In this ROCK STEADY 12-week program, you will learn strategies and tools to use for anxiety, sleep disturbance, muscle tension or chronic pain too.  This is a holistic toolkit.
What ROCK STEADY is about
ROCK STEADY shows you what's happening in your body, and how to rewire your body to get your peace of mind and confidence back.
I use a gentle, evidence-based, integrative medicine approach.
I consider the whole person – physical, mental, emotional and spiritual.

You own your recovery, controlling your own personal daily plan

I go beyond a 'magic fix' or prescriptive one-size-fits-all approach.

ROCK STEADY can complement any current approach you're using, e.g. medicine, diet, exercise.

Take a less is more approach.  Stop doing 'exercises' and start being at ease.
Build self-belief, wellbeing and body strength.  Learn practical strategies for managing tension, sleep, tinnitus, anxiety and dizziness.
Many clients report immediate relief from symptoms when they use our tools.
ROCK STEADY runs over 12 weeks (but keep it for life).
You receive access to six self-paced eLearning modules.  There are more than 350 minutes of audio and 23 videos.

That's equivalent to 12 x 1-hour personal sessions with me, Joey (valued at over $3600).
Learn online with easy-to-follow audios, videos, worksheets and emails.
Easy-to-use technology.

Learn in the comfort of your own home.

Reduce the need for ongoing therapy.

You have control, self-paced (a

ll you need is internet access).
I show you how to adapt and rewire your neural pathways to work around symptoms, and feel better.
Start your 12 weeks of ROCK STEADY
BUY NOW for $549 with a single payment option (or $777 for a monthly payment plan).
Your commitment
You'll need around one hour each week to work through the audio and video, plus 15 minutes a day to practise the exercises.
I don't expect you to be perfect, but I encourage you to commit as best you can to your daily program to maximise your chances of improving symptoms.
You belong here if you want to
feel focused on solutions not symptoms

reset your 'neural' filters and learn the art of prevention

strengthen, tone, and feel solid in your body

develop recovery insight and regain self-belief

say 'yes' to things you love (no longer limit your activities around symptoms)
Here's a sneak peek:
Module 1: Finding steadiness
Learn how to release neck and shoulder tension (essential for anyone with dizziness or tinnitus).  Start your daily home program and feel better for it. Learn what to do during episodes of spontaneous of symptoms.
Module 2: Exploring our mind, thoughts and actions
Understand your unique inner process to best strengthen your brain, body and subtle neural pathways.  You'll look at 'cleaning out' your old perception filters and taking a fresh look at your core beliefs.
Module 3: Thinking outside the box
Recovery requires variety. Begin to introduce variety into your daily movements with gentle curiosity.  Discover how to stay supported during difficult moments.  You'll update your personal daily program as you progress.  
Module 4:  Becoming ROCK STEADY
Learn how to keep the body biology in 'repair' mode.  Begin to recognise when you are feeling stuck in a mindset cycle of 'worry' and what to do about it.  Learn to be prepared for whatever sensations you feel each day.
Module 5: Cultivating mindset
Master any feelings, doubts and persistent thoughts that challenge you as you move forwards. Learn how to support yourself and feel prepared within uncertainty.  Back yourself.  Keep moving forwards.  Rebuild, rewire, reset.
Module 6: Trusting your inner wisdom
Step into your inner wisdoms and values daily.  Lean in, and trust that your body knows what to do. Explore your changing needs and look at thriving as a new way of life.  Rework your neural pathways and remain focused on your desired feelings. 
Joey Remenyi
I'm Joey Remenyi, the Founder and Director of Seeking Balance Australia.
I'm a world leading vestibular audiologist focused on neuroplasticity, and a registered senior yoga and mindfulness teacher with 18 years of experience. I've worked and trained with leading neurologists, ENT surgeons, psychologists and vestibular physiotherapists. 
I understand the limitations and challenges you face.
I've had thousands of people walk through my door feeling exhausted, burnt out, frustrated and helpless.
And I've been there too
I've had both vertigo and tinnitus. I found a process to get through it. 
Now I'm here to show you that you can feel ROCK STEADY and learn about the art of neuroplasticity.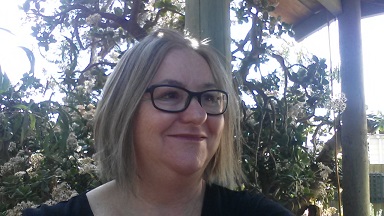 Ruth shares her story (listen here) on starting the ROCK STEADY program to help her ease her symptoms (foggy, heavy head, tinnitus, dizziness, fear of Meniere's attacks, avoidance of social events…etc). Her Symptom score has since reduced from 84% disability to only 6%.
Ruth reports feeling more 'free' in her mind and stronger in her body with a daily practice of 15-minutes.
Start ROCK STEADY
BUY NOW $549 with a single payment (or $777 with a monthly payment plan).
The data shows that 97% of ROCK STEADY users feel benefit and would recommend it to others.